Enable Growth Through Technology
We understand that technology isn't just about servers and computers; it empowers you to be more efficient and can give you an advantage over your competition. Alexonet takes pride in being able to integrate ourselves with our clients to better understand their goals and align technology to deliver their desired results.
With a growing manufacturing, technology, research and agriculture industries McMinnville brings it all. Nestled into the sweet spot of Oregon. 35 miles from Portland, 46 Miles to the Beach, surrounded by picturesque landscapes and wonderfully warm and welcoming people. McMinnville Made
Teamwork, leadership, dependability, confidentiality, professionalism, are Alexonet's pillars of success. We are a cohesive team from many different walks of life. If you are looking for the team with experience in helping customers achieve business success than you are in the right place. Connect With Us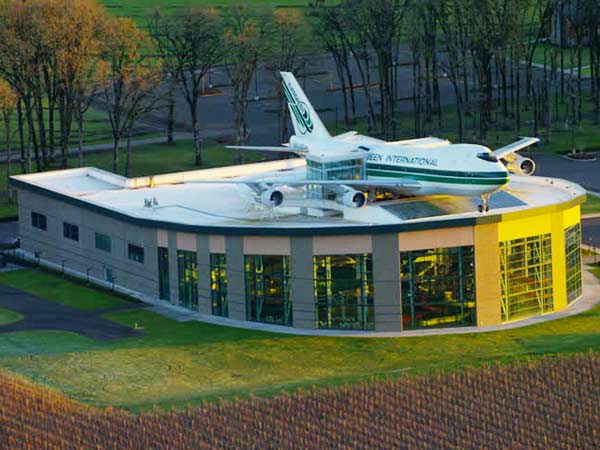 Yes, that's a 747 on top of a water park. Where we come from this is normal. We come from a land of creative thinkers and builders and farmers, and the mindset of think big and think creatively did not stop with our area founders. We take your ideas and make them an I.T. reality. Let's Work Together
Technology is a Means to an End
Too many I.T. companies and professionals can't resist experimenting with the latest thing, but your business is not an experiment or a test. Our goal is to improve the effectiveness, productivity and profitability of your organization. Usually, this means we don't choose the latest trend, we choose the most reliable.
Most I.T. consulting companies recommend paying more money into hardware in the idea that a better machine will be less likely to fail. We plan for hardware failure by protecting your data with automated, monitored backups and offsite redundancy. This approach reduces costs and protects what really matters, your data.
Superior Customer Support
You matter to us. At Alexonet we believe people matter, things don't. In other words, we feel technology is just one more tool to help employee productivity and support the goals of your organization, and it's our mission to deliver reliable I.T. services and I.T. consulting while delivering superior customer support.
Why Chose a Managed IT Services Provider?
Many businesses rely on a break-fix model when it comes to managing their technology. This means that when there are issues on your network, someone is called and the issue is fixed. You pay exorbitant fees and experience disruption to your business. This is no way to run a business when so much vital data is on the line.
Co-managed IT services is a way to keep your monthly technology budget predictable while having strategies in place that will proactively stop issues before they affect your network. Partnering with Alexonet means having dedicated tech teams; teams that know your employees, your infrastructure, and your network, always ready to answer the call and resolve issues.
Better yet, our team can also proactively monitor your network to ensure nothing abnormal is happening. If we find something, we work with you to resolve the issue quickly and correctly, while also ensuring your overall cybersecurity and network health. That's true partnership!
What Makes Alexonet Different?
Alexonet understands that not all businesses need the same level of support. Some may benefit from a Co-Managed IT services option, where we work alongside your existing IT department. Others may have stringent industry regulations that require a higher level of services.
No matter what level you choose, you will have our best-in-class security platforms including our antivirus powered by A.I., and our state-of-the-art email protections. We specialize in fast, friendly customer service and a reliable IT help desk. We have a huge pool of talent, constantly testing new technologies to help you stay safe and connected. Alexonet knows Cybersecurity and offers business strategy planning and risk assessments.
We aren't just another Co-Managed IT services provider; Alexonet has an active voice in the way your solutions are developed and delivered as a partner with many of the technologies we use and support. Our relationship with our third-party vendors means that we can find the best pricing for our clients. We go one step further and help you manage your own third-party vendors, too.
Prepare for the Future With Confidence
With ever increasing growth in the manufacturing, technology, research, and agriculture industries, McMinnville offers it all. Nestled into the sweet spot of Oregon, just 35 miles from Portland and 46 Miles from the beach, surrounded by picturesque landscapes and wonderfully warm and welcoming people, this area has it all!
Alexonet is the leader in the Pacific Northwest when it comes to managed IT services and cybersecurity consulting. Remote work continues to grow as more and more companies allow their employees to work from home. Hire and keep new talent by preparing your IT environment for the ever changing remote and flex workforce.
Our Alexonet 100% Guarantee
We cannot always control the uncontrollable. Like weather, mass internet outages, and disasters. But three of the most important things that we can control after running a sound I.T. infrastructure are customer service, confidentiality, and dedication to our customers and it's employees.
Dedicated to Customer Service
Dedication to Confidentiality
Dedicated to Success of our Customers
What Are You Waiting For? Connect With Us Today!